Lucy Li just wants to have fun like any 11-year-old girl. Except that this week, she's playing the biggest event in women's golf.

The sixth-grader from Redwood Shores, California, near San Francisco, doesn't appear to be the least bit overwhelmed by the attention around her since she became the youngest qualifier in U.S. Women's Open history when she shot 68 at Half Moon Bay last month to win her sectional by seven shots.
"She looks so darn cute," said onetime youth golf phenom Michelle Wie, who didn't make it to her first Women's Open until she was 13. "I was like, 'I don't think I looked that cute when I was 11.' But she just looks so excited, so wide-eyed … And I'm just really so excited for her to be out. It's a memory that will last her a lifetime. What other 11-year-old can say that they played in the U.S. Open at Pinehurst? And she got to see the men play, too."


The pre-teen, who sports braces on her teeth, celebrated by having dinner at her favorite restaurant and watching The Amazing Spider-Man 2.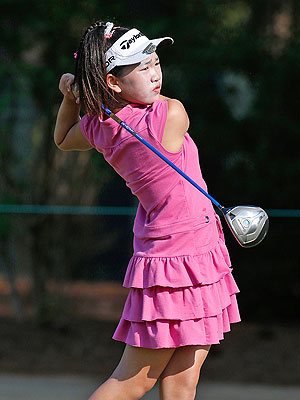 Li only became serious about golf four years ago when she set up shop in Miami to work with Jim McLean. Just two months ago, Li won her age division in the inaugural Drive, Chip and Putt Championship at Augusta National. And now she's at Pinehurst No. 2, ready to take on the course where Martin Kaymer won the U.S. Open on Sunday.

"It's awesome, right?" she said, giggling as she answered questions from media. "I mean, Pinehurst and Augusta National in like two months. I mean, that's just amazing. It's mind-blowing for me. It's been awesome. The food is great and it's been a lot of fun. I've made a lot of friends."